Mine Rescue Competition
Mine Rescue Competition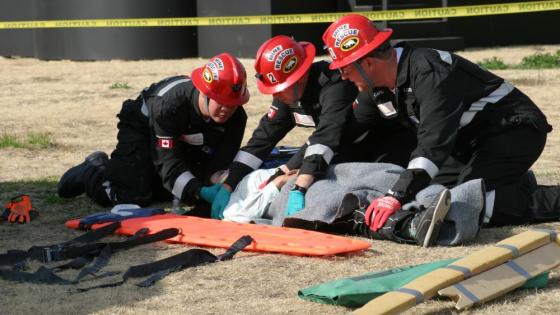 60th Annual Mine Rescue Competition,
June 10th, 2017
Mine rescue is a critically important part of any mine safety program. When something goes wrong in a mine, the mine rescue team's training allows them to deal with any situation.
In this family-friendly event, spectators can watch teams from across Canada showcase their skills and learn from one another, while competing for the Overall Surface and Overall Underground Trophies.
Join the WSCC in supporting this annual event.
The Chamber of Mines also invites the public to enjoy the Miner's Picnic, a family event and free BBQ.
When: Saturday, June 10th, 2017
Where: Yellowknife Multiplex/Fieldhouse Parking Lot (41 Kam Lake Road)
The Competitors
Check back here for a list of 2017 teams!
Six teams from five mines participated in last year's event:
Surface teams
Ekati Diamond Mine – Dominion Diamond Corporation;
Gahcho Kué Diamond Mine – De Beers Canada Inc.; and
Meadowbank Gold Mine – Agnico Eagle Mines Ltd.
Underground teams
Diavik Diamond Mine – Rio Tinto;
Ekati Diamond Mine – Dominion Diamond Corporation; and
Hope Bay Gold Mine – TMAC Resources Inc.
Contact Information
Lex Lovatt, Mine Rescue Coordinator
Workers' Safety and Compensation Commission
(867) 920-3849
Email