Annual Video Contest
Annual Video Contest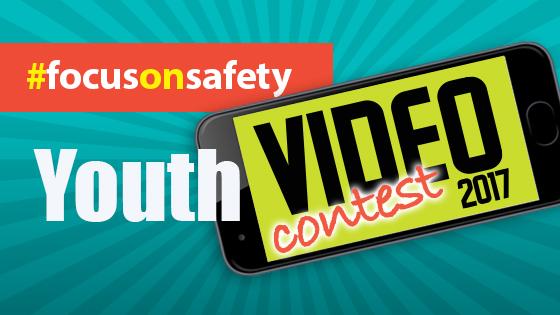 The 2017 Video Contest is now open for submissions!
The WSCC administers this annual safety video contest on behalf of the Canadian Centre for Occupational Health and Safety (CCOHS). The WSCC organizes and manages the territorial competition in the Northwest Territories and Nunavut. The winners of the territorial competition will advance to the CCOHS-organized Canadian National Finals.
2017 Entry Deadline: Saturday, April 1st, 11:59 PM MST
Who is eligible?
This contest is open to all Northwest Territories and Nunavut High School students (Grades 9-12). Each team must have a sponsor teacher from their high school to supervise the team.
What should my video be about?
The theme this year is #FocusOnSafety, so the video must do just that: focus on safety. Beyond that, it's up to you! It could be a drama, an animation, a stop-motion video, or even a music video - get creative with it.
When coming up with your own video idea, ask yourself this question: How can workers and employers help to create safer workplaces?
The North is a large area with a lot of different industries. Whether you're in mining, retail, food service, hunting/trapping/fishing, construction, or you're self-employed, it's your job to help create and maintain a Northern safety culture. Show us how you make safety your job!
How do I submit my entry?
a) Upload your video to YouTube and email the completed contest entry form (here) and the video link to the WSCC Contest Coordinator at
VideoContest (@) wscc.nt.ca
Or:
b) Send the video on a CD, DVD, or USB stick and mail it to the WSCC Contest Coordinator at:
#FocusOnSafety Video Contest
Workers' Safety and Compensation Commission
Centre Square Tower, 5th Floor
5022 49th Street
Box 8888
Yellowknife, NT  X1A 2R3
What are the prizes?
Territorial Competition (First Round)
$1000 to the first place video team or individual from the Northwest Territories/Nunavut Contest.
$1000 matched prize awarded to the winning team's sponsor school.
Canadian National Finals (Final Round)
The winning Northwest Territories/Nunavut Video advances to the Canadian Finals. There, they have a chance to win an additional first place prize of $2000. Second place receives $1500, and third place receives $1000.
Each winning secondary school will receive a matching prize equal to the total prize of the student or team of students.
The Fan Favourite Video Prize
This is part of the National Contest only. Canadians view and vote for their favourite video. Voting for the Fan Favourite will take place online from Friday, April 28 to Thursday, May 4, 2017.

The winning Fan Favourite video will receive $1000. 
There are no matching prizes for educational institutions in the Fan Favourite award.
When are the winners announced?
WSCC notifies the winning team by April 10, 2017 for the territorial contest.
National contest organizers notify the winning teams by May 5, 2017 for the Canadian Finals contest.
CCOHS will notify the Fan Favourite winner by May 5, 2017.
With support from the Canadian Centre for Occupational Health and Safety (CCOHS)